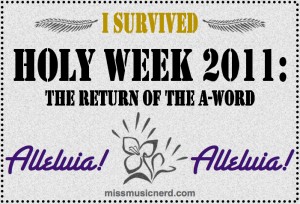 This badge from Miss Music Nerd pretty much sums up my feelings on the subject. Alleluia, I survived! Like her, I'm also left with a rather large "to do after Holy Week" list that needs tackling. I think mine starts with tidying up the music room, I'm sure it had a floor once. I did take Easter Monday as a day to be lazy at home, and it felt decidedly odd not to be thinking of everything in terms of the next church service.
I couldn't have managed it without the choir, though. They were stellar in putting up with rehearsals before every service and with my relative unfamiliarity with the pattern of Holy Week at St Andrew's, and with keeping the practical choir stuff under control so I didn't have to play herd-the-choristers alongside playing the organ. Really they deserve this badge as much as I do.
Instead, they got glittery cupcakes. Hopefully that will do!